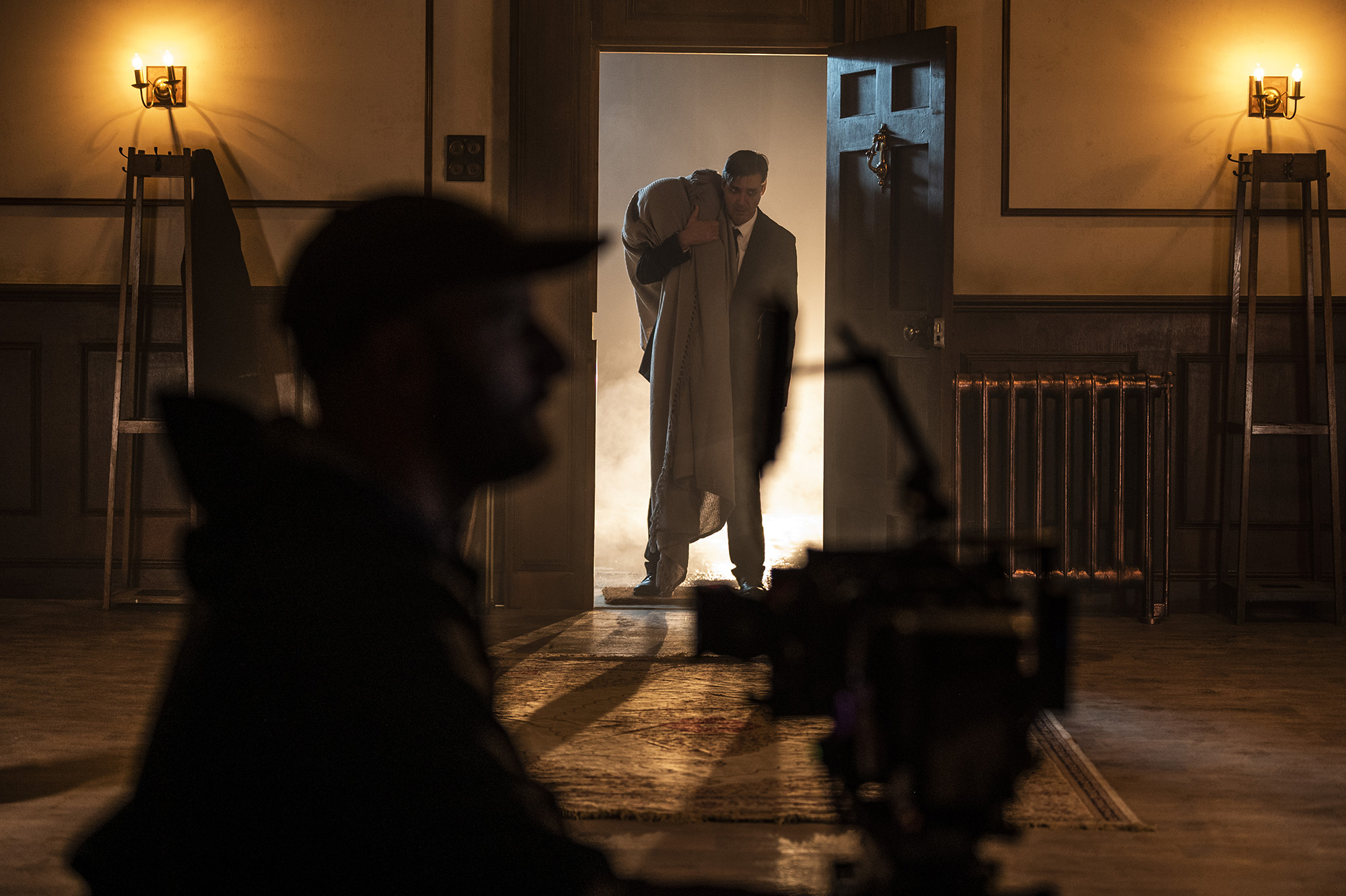 Shoot Day 3
Day three was going to be our easy day, We had lost Jack our A.D. but with what we had to do it was super simple and believed it would be easy enough to wrangle those involved. Martin had been left there the previous night to shift the sets to a mockup up front hall and front door. By the time we were done it looked outstanding, we played around with the furniture a bit and also wet the outside down for a bit of cool reflection, we used two lamps to simulate car headlights and fogged up behind Hugo and it looked totally legit and very resident evil. We also placed in the scene a small piece of bannister in front of lens on a C stand to give the impression of a nearby stairwell.
Hugo carried the body inside over one shoulder which was a dummy, made so he wouldn't have to carry a real person and exhaust himself, the dummy was made by Martin with limbs that moved in the correct way and gave a totally realistic impression when it was wrapped in a blanket.
This was an easy day for Hugo as his characters performance was tempered for the scene and also he was mainly in silhouette. We also shot at the same time the set empty for the moment in the film were we find he HASN'T gotten a victim and is refusing to comply with the monster. We took some more crew shots in the ad hoc lobby with masks without masks.
We struck the set at 1pm and went for Lunch. Kat Hannon showed us some of the amazing photos she had gotten which me and Mike were blow away buy, Mainly because she has been invisible in her work, never intrusive and always delivered incredible photos.
The crew had mentioned a wrap party even though we weren't wrapping till the following day, most crew were working that weekend and thus is made sense to do it straight after we had finished. I went home got changed and met up with everyone at the MET pub in Didsbury (although I just wanted to sleep!)
Hugo, The two Mikes and myself went to a vegan restaurant for a late supper before calling it a night.