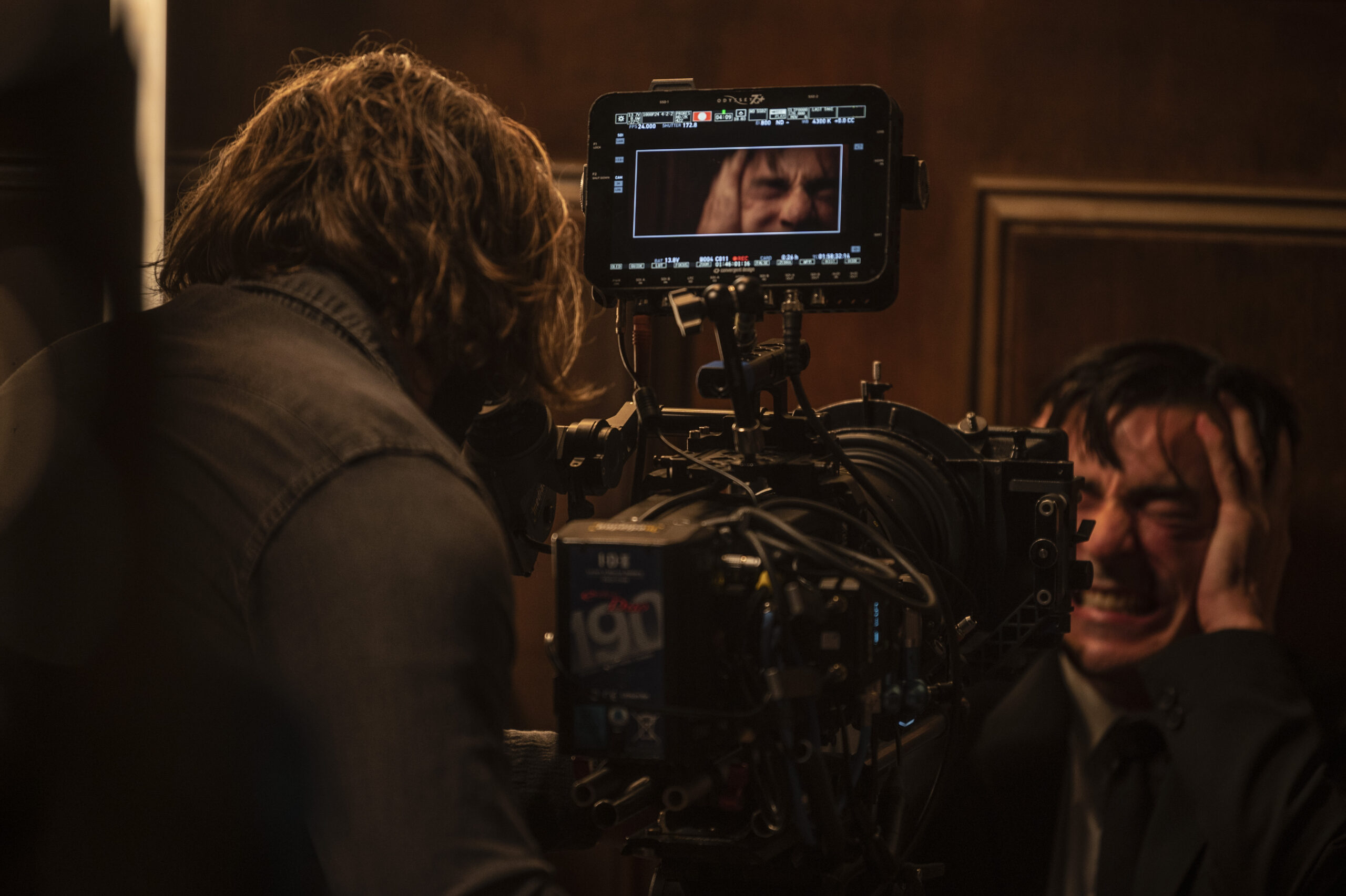 SHOOT DAY 2
The first day shoot was always going to be our hardest and we flew through it, a lot of day 2 is a blur really but most of it involved the cameras on sticks and sliders – as the technocrane had gone home we should have more setups per hour. We began with Hugo in makeup for his stage-2, semi beaten look and we shot off as many setups as we could with both cameras. Having two made all the difference there was always another camera at a 90 angle to get something else you can use in the edit and made you zip through coverage.
We reshot the end of a technocrane shot to give us more room to maneuver in the edit. Hugo was tired that day and a lesson learned because we threw him in the deep end of the shoot with all the super emotional stuff straight away so he was a little drained, it served us well though as that was Mason's mindset, a man exhausted emotionally so we got more really cool stuff with Hugo.
The previous day B camera had been operated by Josh Gwynne who was fantastic and had the same sensibilities as myself; every shot he chose was one I would have picked so he was the perfect guy to run second unit (albeit a very small unit) I could leave Josh to it and know I would get back amazing shots. We had another operator on that day Leighton Cox who had been camera op and 1st A.C. on the Bentley advert as such we REALLY flew through this day. Day 1 we had achieved 35 setups between the two cameras this one was getting towards 75 if you can do 25 in a day you're doing really well!
The day went smooth and fluid, Hugo was still in the zone so most of my direction came of making micro adjustments to what we had already discussed the same problem with continuity chased us though but that's what film is all about! With Lauren's help we did really well on that score.
In terms of the anamorphics the only headache to setup was the diopters for macro, there were three and had to be set into lens before we could turn over, we did try to get the 65mm macro lens but no one had it but we still managed to knock off a truckload of uncomfortable looking macros of Masons face in pain We also tended to go with 50mm and 75mm as our go to telephoto and 32mm for our wides. a 24mm could be used but it meant taking off the matte box because of vignetting.
B camera went with 100mm and the occasional 135mm that way it was out of view of A camera and we could knock off multiple setups in one go.
My Location manager Danny Hussain paid us a visit and also Sky who were on a recce turned up and watched a little of our work take place.
A lot of this day was mainly about banging doors, slamming doors and Hugo's CU reactions to events going on around him. We also had far too many salacious innuendos of terrible 'dad-joke' style camera quips. Towards the afternoon Mike had to relight the hallway for Hugo reacting to seeing the monster coming towards him and so had to cannibalize some of the bedroom lighting, Josh Gwynne and I fired off as many incidental shots as we could to a point where I had actually run dry, I couldn't think of anything else to shoot.
Milda Cuplinskaite turned up that day for a costume test and met the team, Milda would be playing the second offering to the monster (the first being off screen).
By that time we were flashing more lighting down at Hugo and doing wides to close on him. The fantastic thing was we were not trying to hit technical marks now and were totally into performance if memory serves we got nine takes out of one shot were we actually got to play around with performance more.
Rick Wiltshire had been asked to come back for some promotional shots of the monster with its arms around him for a potential poster ads well as some more standard monster shots. We also managed a few crew shots in the bedroom before it was taken down.