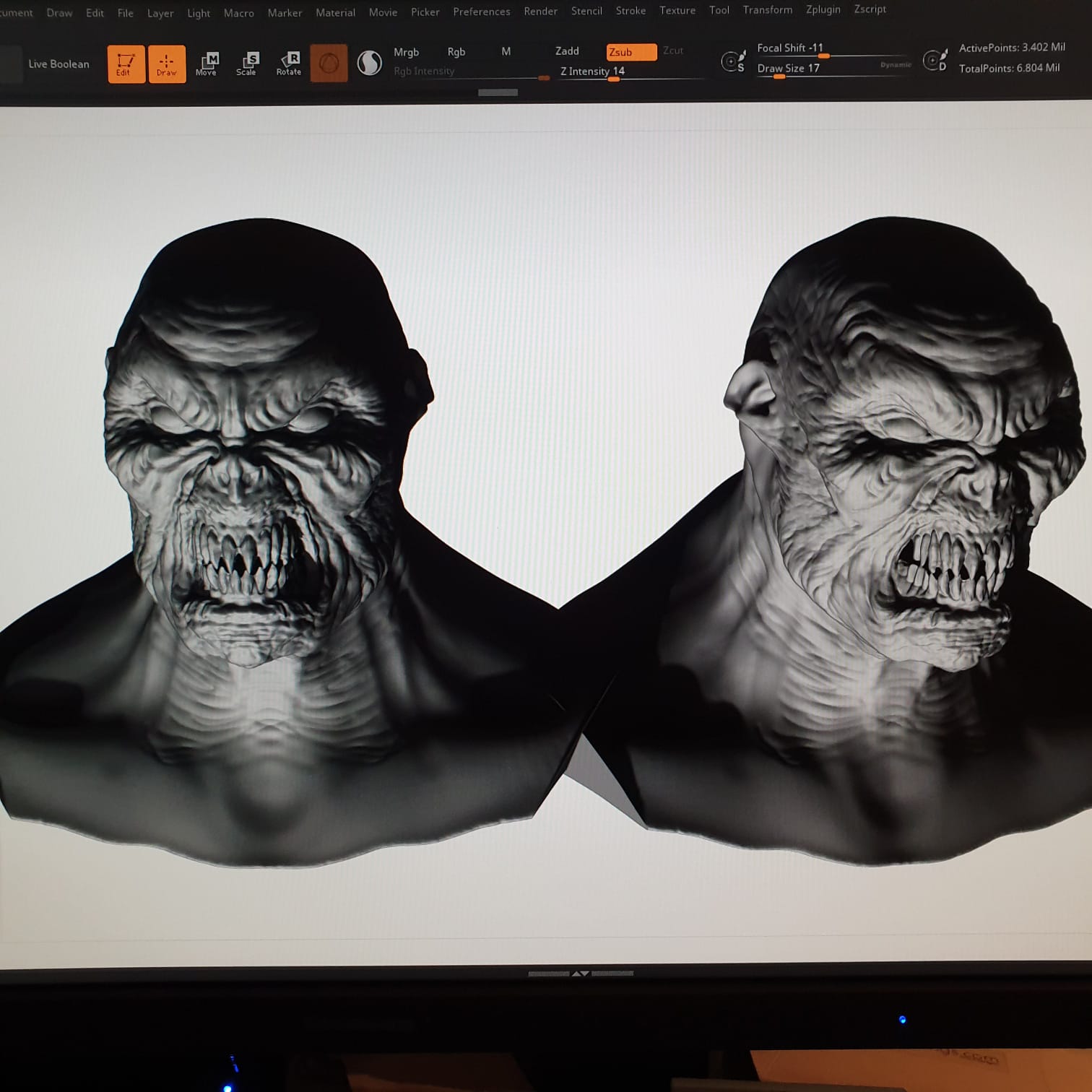 Producers, VFX and Actors
PRODUCERS
Mike had recently partnered up with Michael Keogh a professional actor and director of several short films with Mike with the notion of setting up their own production company together.
Mike suggested Michael (confusing I know) coming on board with his large web of contacts in the northwest and we had ourselves a done deal, a co-production between their company and mine. Singularity Pictures and Mikael.
VFX
My plan for the VFX had always been a practical mask of some sort, something that someone could where with there mouth actuating the monsters…
Several companies who made this kind of piece quoted me insane amounts of money into the tens of thousands of dollars in order to make something that would work but that was half my budget gone….
I contacted several people on Facebook who I had found in groups with either no response or their work not really up to scratch.
After several months I got a response back from one who apologized for his late reply; Demitris Robinson, a VFX technician working on numerous Disney films and was interested in talking.
I sent the materials over and script and we met in London and stroke up a connection.
Demitris began with a digital sculpt which although fantastic was the wrong direction for the monster, too athletic, not ancient or threatening enough.
We chatted and he realised I wanted what was in the concept art I'd had commissioned several years ago. I did a more refined version of the monster something that could fit the constraints of a human head and Demitri tried again.
ACTORS AND ACTING
Originally the plan for the film was to just use someone who looked good in the role but I saw several actors I liked so much I considered contacting them for the role itself. One was Skeet Ulrich from Scream and Riverdale fame.
I loved him as the role of Mason but his success and distance made it an issue. Then I really got balsy… I decided we would try Nikolaj Coster Waldau for the role of Game of Thrones fame.
We spoke to his manager who told us he did consider projects such as these and would put it forward.
After Christmas 2019 came and went… she got back to us and told us it wasn't going to happen. Bummer. I'd sold myself on him but it was a long-shot to begin with.
We met up and discussed getting a casting director onboard and upping the money of our actor in order to get a name on board. 3K out of the budget was pushing it though and we were being rejected by casting directors who weren't fans of horror.
Michael Keogh reminded us that the project as a whole was the important thing and not the actor doing it. Most shorts have no one famous in them and we should find an actor who is right for the part.
Michael suggested someone from his acting classes who was good but after a nights insomnia at 4am I found an actor I had come across years ago. Hugo Nicolau.
Hugo was a European actor living in London and had an impressive reel and classic film noir looks.
I contacted him direct through his website and offered him the role right away.
Hugo asked for a character history of Richard Mason which I drew up based on the full length screenplay which Hugo found massively helpful in investing himself into his character. We agreed on dates and a rate and we had our lead actor.
For our victim I asked Milda Cuplinskaite who I had worked with recently on a small corporate video. Maldi had a great attitude to success and an overall zen attitude that I shared but she also has a timeless look to her, she could fit in easily in a UK WWI film or a 1950's chicago movie, she looked like the kind of woman they used to paint on the noses of bombers in WWII. Ultimately she would play the one victim seen on screen in the film and she promised me she had a good enough scream for the dubbing afterwards